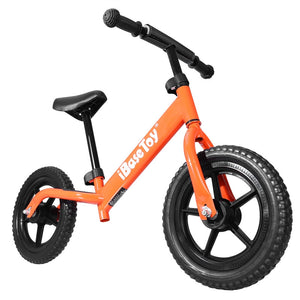 IBASE TOY No-Pedal Balance Bike for Kids Sport Walking Bicycle With Adjustable Handlebar
Description
This item is well made of premium material for durable and practical use.
Puncture-resistant EVA tires help provide a smooth ride.

Designed with no pedal, the balance bike will help your child develop essential bike skills such as balance, steering and coordination. And it provides a safe, easy and most efficient way for easier transition.
Feature
- Brand: IBASE TOY.
- Color: Orange.
- Material: EVA.
- Size: Approx. 85 x 35 x 40 cm / 33.5 x 13.8 x 15.7 inch (L x W x H).
-
All materials are eco-friendly and non-toxic, safe for kids to use.
- Soft handlebar grips and a contour saddle seat ensure that your child rides in style and comfort.
- Extremely safe design reduces risk of injury common on tricycles and training wheels.
- Improves balance and coordination at crucial developmental stages, enabling a seamless development towards a pedal bike.
---