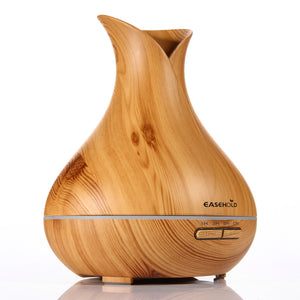 400ml Air Purifier Ultrasonic Aromatherapy Humidifier with Whole Wood Grain and Colorful Lights
Features:
1) Compact and elegant design, especially made for those who have a deep love for life and have a good taste.    
2) Ultra-fine and uniform mist to ensure that every single essential oil is well absorbed, allowing you to enjoy SPA anytime and anywhere.
3) Essential oils and mist molecules gently circulated in every corner to give you new experience of safe, comfortable and efficient use of essential oils.
4) Super quiet with ultrasonic technology to allow you to work at ease, sleep sound, and easily handle your work.
5) Stable and reliable automatic power off safety system that allows you to easily enjoy intelligent life when the water is used up.
6) Effectively kill bacteria and purify the air for skin care and good health, an essential guard for your home and office!
Simple Operation:
It is designed with user-friendly principle. The operation is simple as follows:
1. Lift up the cap; fill the water tank 
2. Add drops of aromatherapy /essential oil 
3. Connect the humidifier to power source and press "MIST" to choose desired mode
4. Press "LIGHT" to change the color 
Function Keys:
"MIST": Choose the time from 1 hour/3 hours/6 hours/steady on.
"Light": Turn on the LED light, the color will change automatically.
Press the "Light" button again to freeze the color you want. Press again to change another color. 7 colors are available. Each color is adjustable between bright and dim.
Warm tips:
1. You can get different flavors of pure essential oils through various websites and shops.
2. Do not add water over MAX line. Add essential oils 3 to 5 drops each time.
3. The humidifier can be also used as a vase. You can put your favorite flowers into it to decorate your house.
---